WHAT IS SNAP?
The Supplemental Nutrition Assistance Program, or SNAP, is a federal program that offers nutrition assistance benefits to millions of eligible, low-income individuals and families. On a monthly basis, SNAP participants receive a fixed quantity of SNAP benefits on an Electronic Benefit Transfer (EBT) Card. The SNAP EBT card can be used like a debit card to purchase healthy food at authorized area retail stores and supermarkets
HOW TO APPLY
The Methuen Public Schools is proud to offer additional hours at the Family Resource Center designated to assist families to apply for SNAP benefits. Please feel free to visit us at the Family Resource Center, located at 10 Ditson Place Methuen, Massachusetts. If you are a working family or parent, and need assistance with (SNAP), the Supplemental Nutrition Assistance Program. The SNAP program provides nutrition benefits to supplement the food budget of families in need of support. For help applying for SNAP benefits or re-certification of benefits please contact the Department of Transitional Assistance (DTA)
The DTA Assistance Line is open from 8:15 A.M. to 4:45 P.M.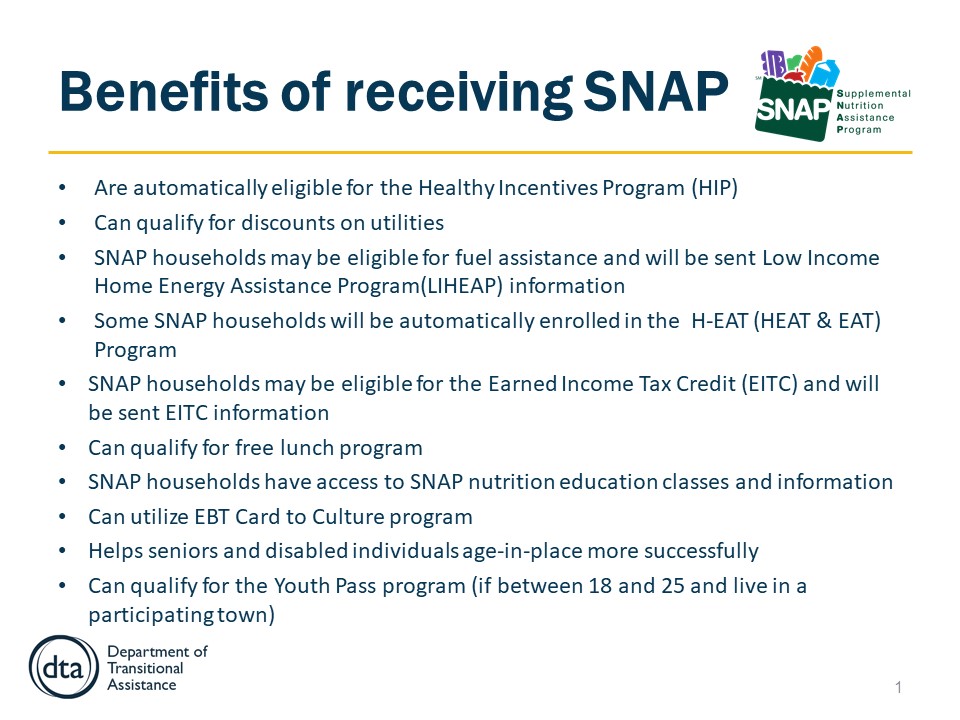 START YOUR APPLICATION HERE
STEP ONE

:

DO

WNLOAD SNAP FORMS
SNAP Application Haitian Creole
STEP TWO

:

ELIGIBILITY/ASSISTANCE WITH APPLYING FOR SNAP
For anyone in Massachusetts who needs help with SNAP eligibility or assistance in applying for SNAP, please call Project Bread's FoodSource Hotline. Project Bread's Hotline counselors can tell you if you are eligible or not, and help you apply. Project Bread's services are free to all residents of Massachusetts. Call 1-800-645-8333. The Hotline hours are Monday-Friday, 8am to 7pm and Saturdays, 10am-2pm. Counselors can assist callers in 180 languages and the hotline is toll-free and confidential.
The Project Bread FoodSource Hotline is also your source for finding free meals for kids and school meal sites, summer meal sites, P-EBT, local food pantries and meal programs, all across the Commonwealth of Massachusetts.
STEP FOUR

:

DOWNLOAD DTA CONNECT APP (optional)
The Department of Transitional Assistance offers the DTA Connect app, which lets you view and manage your case information. It can be downloaded from Google Play or the App Store.
Now you can manage your benefits with a few quick clicks.
Upload and submit important documents
Update your contact information
Request an income verification letter (proof of DTA benefits)
No more long lines or hold times.